In 1987 my longtime friend Jeff Ross introduced me to the "Holy Trinity" at G&L guitars -Sales manager Dale Hyatt, the "G" George Fullerton and the man himself, Leo Fender. Desert Rose Band was starting to tour and have chart success nationally, as well as appearing often on TV. Always looking for some good promotion, on the recommendation of Jeff they presented me with a natural-finished ASAT model guitar, their answer to the Telecaster. Although I really did like the guitar quite a bit I was reluctant to use it onstage, but when I finally did it quickly became my main stage guitar.
I wanted something flashier looking though, and after much cajoling they built me a silver sparkle finished ASAT. Not sure if the finish made it sound better, or if I just liked it better because it looked so cool,  but love it I did! For the rest of the DRB days and through the first two Hellecasters' albums it was my main Tele-style guitar.
In 1995 G&L introduced a signature model with many of the appointments of my personal guitar, including silver sparkle finish, gloss finished neck, signature on the headstock, etc. Due to some disfunction in the artist relations department that occurred after Leo's death and subsequent sale of the company to BBE, I decided to disallow further use of my name and manufacture of the model. As no clear sales records were ever issued to me, I can only guess that under 200 were built from January-December of 1995.
I still love that guitar and used it for DRB reunion shows in 2010, as well as more recently on an instrumental album with Joe Bonamossa. The thick finish needed for a smooth finish with the large metal flakes has yellowed over time, leading many to think that is was gold with a silver pickguard but indeed it was specially made for me , all silver, by Leo Fender in 1988.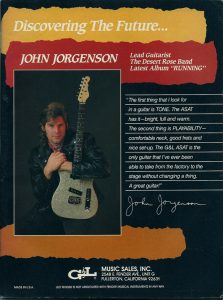 With Desert Rose Band
With the Hellecasters