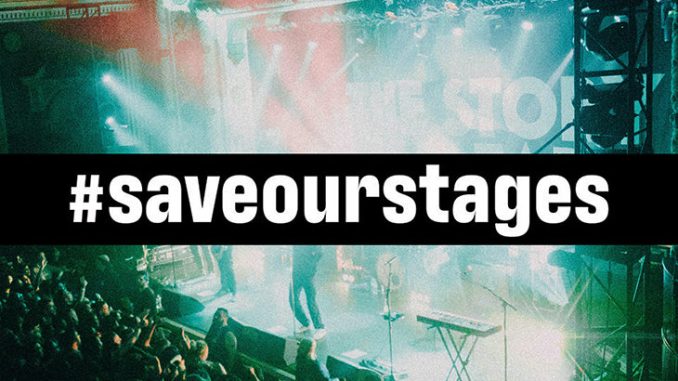 John Jorgenson has joined together with hundreds of artists to sign an open letter to Congress requesting federal aid for independent music venues as they continue to struggle in the wake of the COVID-19 pandemic and the near-complete erasure of live performance income.
Live entertainment has been among the hardest-hit industries during the coronavirus pandemic and with an uncertain outlook concerning conditions that would allow for operations to resume, many of our most hallowed venues are under threat of permanent closure.
The letter from artists joins the ongoing efforts of the National Independent Venue Association, a coalition of independent venues and promoters that's been lobbying the federal government for financial assistance beginning in April of 2020.
The full letter to Congress and complete list of artists can be found below:
Artists' Letter To Congress (in full)
June 18, 2020
We, the undersigned artists, respectfully submit this letter in support of NIVA's request for federal assistance for independent music venues and promoters across the United States.
We will know America is "back" when our music venues are filled with fans enjoying concerts safely. The live music experience is inextricably tied to our nation's cultural and economic fabric. In fact, 53% of Americans – that's 172 million of us – attended a concert last year.
We urge you to remember we are the nation that gave the world jazz, country, rock & roll, bluegrass, hip hop, metal, blues, and R&B. Entertainment is America's largest economic export, with songs written and produced by American artists sung in every place on the globe. All of these genres of music, and the artists behind them, were able to thrive because they had neighborhood independent venues to play in and hone their craft, build an audience, and grow into the entertainers that bring joy to millions.
Independent venues give artists their start, often as the first stage most of us have played on. These venues were the first to close and will be the last to reopen. With zero revenue and the overwhelming overhead of rent, mortgage, utilities, taxes and insurance, 90% of independent venues report that if the shutdown lasts six months and there's no federal assistance, they will never reopen again.
We are asking you to support NIVA's request for assistance so these beloved venues can reopen when it's safe and welcome us and our fans back in. The collapse of this crucial element in the music industry's ecosystem would be devastating.
Independent venues are asking for an investment to secure their future, not a handout. One Chicago report found that every dollar small venues generate in ticket sales results in $12 of economic activity. If these independent venues close forever, cities and towns across America will not only lose their cultural and entertainment hearts, but they will lose the engine that would otherwise be a driver of economic renewal for all the businesses that surround them.
With respect and solidarity, we, as artists and as community members ourselves, urge you to pass federal legislation that will help #SaveOurStages
Artist Co-Signees – Full List
Adam Conover
Adam Lee Miller
Adeline
Adolescents
Afterlife
The Agonist
Ahmed Gallab
Aidan Alexander
Alabama Shakes
Alan Parsons
Alex Greenwald
Alex Hall
Alex Mali
Alexa Mansour
Algebra Blessett
Alice Cooper
Alison Mosshart (The Kills)
Alison Wonderland
The Almost
Alpha Wolf
Alter Bridge
Amanda Anne Platt
The Amazing Kreskin
Aminé
The Amours
Amy Schumer
Ana Popović
Andre Benjamin
Andrea Ricci
Andrew Kyne
Andrew Laubacher
Andrew Savage (Parquet Courts
Andy Cabic
Angela Johnson
Angelica Garcia
Anna St. Louis
Annie Hart
The Aquabats
Armand Majidi
ARTHUR
Arthur Moon
Ash Costello
Ashlee Simpson
August Burns Red
Ayron Jones
BAILEN
The Ballroom Thieves
Dack Janiels
Damian Marley
The Damned
Dan Smith
Dan Whitney (Larry the Cable Guy)
Dance Gavin Dance
Daniel Norgren
Daniela Bojorges
Darius Koski
Darkest Hour
Darlingside
Daryl Hall (Hall & Oates)
Dave Alvin
Dave Grohl (Foo Fighters)
Dave Mason
David Byrne (Talking Heads)
David Copperfield
David Crosby
David Gray
David Letterman
David Ryan Harris
David West
Dean Wareham
The Dear Hunter
Deb Never
Debi Nova
Deep Sea Diver
Deer Tick
Dehd
Demon Hunter
Deon Cole
Dermot Kennedy
Derrick Donaldson
Deva Mahal
The Devil Wears Prada
DIIV
Dinosaur Pile-Up
DJ Beauty and the Beatz
Don McLean
Donnell Rawlings
Donnie Shaw
Doug Benson
Doyle Bramhall II
Dragged Under
Drive-By Truckers
Drug Church
Duane Lauginiger
Jeff Tweedy
Jeremiah Fraites (The Lumineers)
Jerry Seinfeld
Jesse Malin
Jesse McCartney
Jessie Mueller
Jessy Wilson
Jewel
Jim Adkins
Jimbo Mathus
Jimi PrimeTime Smith
Jimmy Buffett
Jimmy Eat World
Joan Baez
Joe Hottinger
John Bonnel
John Cafferty & the Beaver Brown Band
John Jorgenson
John Lee
John Mayer
John Mellencamp
John P. Hammond
John Paul White
Johnny Simon
JoJo Benton
Jon Gabrus
Jon Hamm
Jon Mohr
Jonah Swilley
Jonathan Kirchner
Joni Mitchell
Jordan Klepper
Joseph Escalante
Joseph Lally (Fugazi)
Josh Homme (Queens of the Stone Age)
Josh Rouse
Josh Smith
Julien Chang
July Talk
June Diane Raphael
Justin Vernon (Bon Iver)
Kacey Musgraves
Kaki King
Kalbells
Kamasi Washington
Michael Ian Black
Michael Martin Murphey
Michael Seyer
Michael Timmins (Cowboy Junkies)
Michaela Anne
Mickey Hart (Grateful Dead)
Mija
MIKE
Mike Cooley
Mike Krol
Mike Mattison
Mike Patton (Faith No More)
MILKK
Ministry
Mipso
Miranda Lambert
Misery Signals
Miss May I
Miss Tess
Misterwives
Mitski
Moaning
Molly Hamilton (Widowspeak)
Moon Taxi
Moon Tooth
Motionless In White
Movements
Mr. Bungle
Mundy's Bay
Nahko
Natalie Portman
Nate Mendel (Foo Fighters)
Negative Gemini
Neil Young
New Years Day
Nicola Kuperus
Night Birds
Night Moves
No Age
Noah Gunderson
Norah Jones
North Mississippi Allstars
Nothing Left
nothing, nowhere.
NOTS
O.A.R.
Scott Mulvahill
Sean Eden (Luna)
Seth Walker
Sevendust
Sharon Van Etten
Sharp Shock
Shawn Phillips
Sheer Mag
Shinedown
Shirley Jones
Shovels & Rope
Sick Of It All
Sidepiece
Silent Planet
Silverstein
Silversun Pickups
Skating Polly
The Slackers
Sleater-Kinney
Slothrust
smrtdeath
Soccer Mommy
Son Little
Sonny Landreth
The Sounds
Speedy Ortiz
Spike Slawson
Spirit of the Beehive
Squirrel Flower
Squirrel Nut Zippers
St. Panther
St. Paul and the Broken Bones
St. Vincent
Starkill
The Starting Line
Steady Rock & Code
The SteelDrivers
Steve Forbert
Steve Vai
Stick To Your Guns
Stray From The Path
SUBHUMANS
Sunn O)))
Sunsleep
Superet
Suzanne Santo
Sweet Tea Trio
The Baylor Project
Bayonet Records
Be//gotten
The Beach Boys
Beach Bunny
Beach House
Beartooth
Being As An Ocean
Ben Whiteley
Benjamin Ruttner
Benjamin Scheuer
Bi TYRANT
Biffy Clyro
Big Gigantic
Big Wild
Bill Bellamy
Billie Eilish
Billy Gibbons (ZZ Top)
Billy Joel
Billy Porter
Billy Squier
The Black Dahlia Murder
The Black Keys
Black Stone Cherry
Black Violin
Blue Oyster Cult
BLUEOX
Bob Corritore
Bob Weir (Grateful Dead)
Bonnie Raitt
Born Of Osiris
Boy Named Banjo
Bradd Marquis
Brady Blade
Brandi Carlile
Breakup Shoes
Brett Dennen
Brian Owens
Britt Daniel (Spoon)
Brittany Anjou
Brittany Howard (Alabama Shakes)
Britton Walker
Broadside
Broken Social Scene
Brothers Osborne
The Cadillac Three
Cahalen Morrison
Duckwrth
Duncan Shiek
Dylan Slocum (Spanish Love Songs)
The Early November
Earth, Wind, and Fire
Eclair Fifi
Edie Brickell
Eilen Jewell
Eli Maiman
Elizabeth Penta
Ellie Goodman
Emancipator
Emmure
Enda Scahill
Entheos
Eric Andre
Eric Roberson
Evan Ross
Eve 6
Exodus
The Faim
Fastball
Faye Webster
Fayuca
Fit For A King
Flatbush Zombies
The Flesh Eaters
Flying Buffaloes
The Format
Foster The People
Foxing
Frank Turner
Frank Vicario
Frankie Cosmos
Freddy Cricien (Madball)
Frederic Yonnet
Free Throw
FRENSHIP
The Frights
Fu Manchu
Fur Coat
Gang Gang Dance
Gareth Emery
Gary Clark, Jr.
Gatecreeper
Gentle Temper
George Clanton
Karen O (Yeah Yeah Yeahs)
Kassian
Katey Sagal
Kathryn Crutchfield (Waxahatchee)
Kaye
Kelly Zutrau
Kelow LaTesha
Kendoll
Kenny Wayne Shepherd
Kesha
Kevin Phillips
Kevin Ross
Kevin Seconds
Khemmis
Kill The Lights
Kim Gordon
Kingsmen
Kitchen Dwellers
Kublai Khan TX
Kurt Vile
Kvelertak
La Santa Cecilia
Lady Gaga
Lance Hoppen (Orleans)
LATENIGHTJIGGY
Laura Veirs
Lauren Zettler
Lee Greenwood
Lee James (Lee Ving)
Lee Roy Parnell
Left Alone
Lennon Stella
Leslie Mendelson
Lifetime
Like Moths To Flames
Limbeck
Lindsay Ell
Lisa Lampanelli
Lizzy Caplan
Locate S,1
Logic
Lorrie Morgan
Los Lobos
Los Nuevos Bajos
Los Straitjackets
Louis Freese (B Real)
Lucati
ODESZA
Oh Land
OK Go
The Old Firm Casuals
Oliver Francis
Oshima Brothers
Oteil Burbridge
Ought
Over the Rhine
Ozzy Osbourne
Paint It Black
Palaye Royale
Palehound
Parker Millsap
Parquet Courts
Party Favor
Pascal Stevenson
Pat Boone
Pat Smear (Foo Fighters)
Pat Travers
Patrick Briggs
Patrick Carney (Black Keys)
Patrick Glynn
Patterson Hood
Patti Smith
Patton Oswalt
Patty Griffin
Paul Cebar
Paul Kostabi
Payton Smith
Pete Koller
Pete Yorn
Philip Glass
Phillip Phillips
The Picturebooks
Pigeon Kings
Pigeons Playing Ping Pong
Pinegrove
Plain White T's
Playboy Manbaby
Pom Pom Squad
Portugal The Man
Power Trip
Propagandhi
Queensrÿche
Ra Ra Riot
Rachel Bloom
Rachel Bradley
Switchfoot
Sydney Silver (Lunachicks)
Sylar
Tamaryn
Tamsin Wilson
Tank and The Bangas
Tanya Tucker
Taylor Hawkins (Foo Fighters)
Taylor Scott Band
Teddy Gentry (Alabama)
Terror
Theo Kogan
Theory Of A Deadman
They Might Be Giants
The Third Mind
Third World
THOMAS MAC
Three Sacred Souls
Thrice
Thurston Moore (Sonic Youth)
Tiffany Haddish
Tig Notaro
Tim Darcy
Tim Green
Tim Kasher
Tom Higgenson (Plain White T's)
Tomahawk
Tori Kelly
Trent Reznor (Nine Inch Nails)
Trew Culture
Triathalon
Trombone Shorty
Twiddle
TWIN XL
Twiztid
Uke-Hunt
The UMA
Underoath
Uniform
Upstate
Vacationer
Valley Maker
Vanessa Williams
Veil of Maya
Cailin Russo
Caitlyn Smith
Calexico
Can't Swim
Cannibal Corpse
Carly Rae Jepsen
Carly Simon
Carmen Vandenberg
Carol Burnett
Carole King
Cass McCombs
Cat Coore
Caylee Hammack
Chaos in The CBD
Chapel
Charlene Kaye
Chelsea Grin
Cher
Chris Aiken
Chris Erickson
Chris Shiflett
Chris Smither
Chris Stapleton
Christopher Owens
Christopher Paul Stelling
Christopher Titus
Chuck Prophet
Cindy Cashdollar
Citizen
Citizen Fish
The Claudettes
Colin Farrell
Con Brio
Conor Oberst
The Contortionist
Control Top
Cordovas
Corey Laitman
Counterparts
Craig Setari
Crown The Empire
Cryogeyser
Culture Shock
Currents
Cursive
Cyanca
The Cybertronic Spree
Cyndi Lauper
George Lopez
George Winston
Gin Blossoms
Gina Volpe
Gio Benedetti
Giraffage
Glitterer
The Good Life
Good Riddance
Goose
Graham Nash
Grayscale
Greg Humphreys
GRiZ
Guccihighwaters
GWAR
The Halestorm
Harvey Mason Jr.
Havok
Hayes Carll
Hex Cougar
Highly Suspect
The HillBenders
HONNE
Hope Sandoval
Hopesfall
Hot Water Music
Hovvdy
I Prevail
Ian Fowles
Ian MacKaye (Fugazi)
Ian Roberts
Ilana Glazer
Iliza Shlesinger
Intervals
Jack Antonoff
Jacob Kiley
James Mercer (The Shins)
James Rouse
Jamie Kennedy
Jason Isbell
Jason Schwartzman (Coconut Records)
Jay Leno
Jay Mohr
Jay Som
Jed Hilly (Americana Music Association)
Jeff Cook (Alabama)
Lucie Silvas
Lucinda Williams
Lucy Dacus
Lucy Woodward
Luka Kuplowsky
Lund
The Machine
Macklemore
Madeline Follin
Madison Beer
Madison Cunningham
Maggie Rogers
Maggie Rose
Maimouna Youssef
The Maine
Makonnen
Mandolin Orange
Mandy Moore
Mara Connor
Marco Benevento
Marcus Machado
Marcus Stephens
Margo Price
Marielle Kraft
Mars Williams
Martha Scanlan
Martie Maguire
Mary Lattimore
Mason Jennings
Matt and Kim
Matt Besser
Matt Walsh
Mattiel Brown
Maurice Torres
Mavis Staples
Max Leone
Max Savage (Parquet Courts)
Mayday Parade
Me First And The Gimme Gimmes
Meg & Dia
The Melvins
Memphis May Fire
Mia Berrin (Pom Pom Squad)
Michael Diamond
Michael Franti
Rachel Brosnahan
The Rad Trads
Rafiq Bhatia
RAMI JAFFEE
Rancid
Randy Owen (Alabama)
Randy Travis
Ratboys
Ray LaMontagne
Ray Romano
The Re-Volts
Real Friends
The Red Clay Strays
Reggie Watts
Renée Fleming
Renee LaGoff
Rhea Butcher
Rhiannon Giddens
Rhye
Richard Lewis
Richard Thompson
Richie James Follin
Rick Burch
Rickie Lee Jones
Rings of Saturn
Rita Ora
Riverboat Gamblers
Rob Ickes & Trey Hensley
Rob Thomas (Matchbox 20)
Robert Plant (Led Zeppelin)
Robert Ramos
Robert Williams (Big Sandy)
Roger McGuinn (The Byrds)
ROLE MODEL
Rufus Wainwright
Russell Peters
Ryan Gaul
Ryan Mattos
Ryan Scott
Sad13
Sam Amidon
Sam DeRosa
Sam Means
Samy Name
Sarah Borges
Sarah Silverman
SASAMI
Satellite Mode
Savoir Adore
Violent Femmes
Volumes
Von Vargas
Walk The Moon
Walker & Royce
Walton Goggins
War On Women
Warren Haynes
Watsky
Wayne Kramer (MC5)
We Banjo 3
The Weather Station
Wenzday
Wesley Schultz (The Lumineers)
Western Centuries
Weyes Blood
Whitechapel
Whitney Cummings
Whoopi Goldberg
WHY?
Wilco
Will Stratton
William Canning
William Hehir
William Tyler
William Wild
Willie Nelson
Wilsen
Wingtip
The Wonder Years
The Word Alive
Wuki
Wyclef Jean
X Ambassadors
Yowler
Zac Brown
Zach Lind
Zakk Wylde (Black Label Society)
Zedd
Zeena Koda